Gemtek Technology has long been committed to the development of wireless technologies, but is also actively exploring the potential of the Internet of Things, building more complete application services; hence, bringing more convenient technological experiences to users, paving the rite of passage for breakthrough innovation and business opportunities in the Smart Internet of Things Era.
IoT applications are implemented within the context of Smart City, Smart Environment, Smart Industry and Smart Metering, all in all forming a "Smart Ecosystem".
In the interconnected world of IoT, there is no single network communication protocol that can cover every piece of device and application so far. In view of this, Gemtek Technology provides various communication protocols and products such as LTE, LoRa LPWAN, RPMA, and NB-IoT, while putting a lot of emphasis on application, range, data transmission, power requirements, security and battery life and other factors, in an aim to assemble the optimal set of communication technologies for users.
LTE-M Wireless Technology
Gemtek Technology provides LTE related module, products, JDM, E2E end-to-end solutions and other services, and can be combined with the M2M IoT platform deployed in the cloud to meet the low-power wide area network requirements of M2M applications.
The LTE-M Wireless Technology is created on the basis of IoT Solutions derived from the LTE cellular network technology. And by adopting the existing LTE carrier, the one-way data transmission mode and simple design enables longer standby duration (Light Sleep) of the device, which power consumption and installation costs are relatively lower than that of the conventional LTE.
The LTE-M's low-latency processing feature that supports conversational speech recognition service is ahead of most low-power wireless technologies in the field. It is suitable for IoT applications such as wearable devices, internet of vehicles, security and smart meters.
The LTE-M provided by Gemtek also offers security, data roaming, and mobility management, to help facilitate the seamless transition among different mobile connections.
LoRa Wireless Technology
Gemtek Technology is one of the first to incorporate the LoRa (Long Range) LPWAN (Low Power Wide Area Network) modulation technology into its integrated IoT solutions, and has then launched a new GIoT (Green Internet of Things) business sector to design and produce LoRa LPWAN system application products that feature long distance, strong coverage, low power consumption, and low cost. The long-term focus of GIoT is to administer the innovative products in all walks of fields and industries, e.g. smart cities, smart homes, smart agriculture, smart factories, and smart meter reading. Gemtek's development plan is not limited to the Taiwan market and has already begun to expand its global market footprints, especially in the Greater China and Southeast Asia, teaming up with local governments and telecom operators in building smart city applications under the premise of LoRa.
Low Power Consumption
Low Costs
Long Distance
High Sensitivity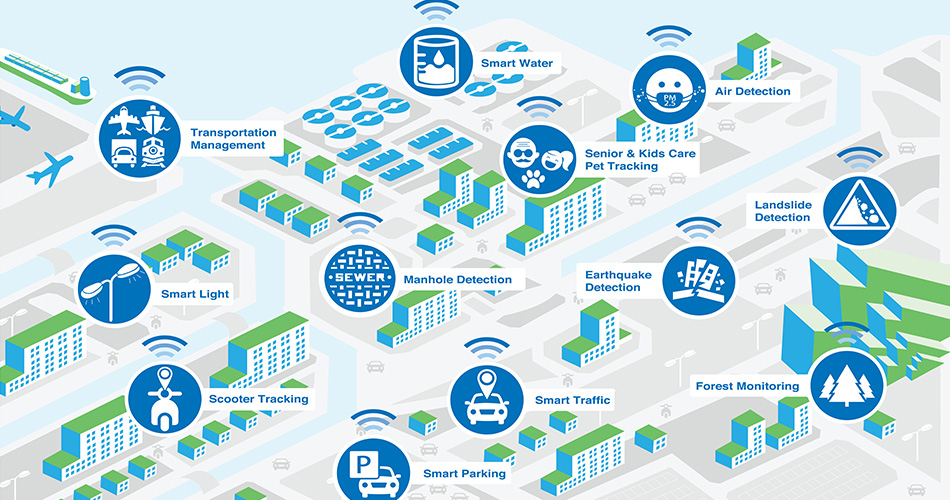 Seeing the pervasiveness and rising trend of IoT mobile devices and cloud computing, Gemtek plans to develop high value-added, systematic, and innovative integrated services, providing complete solutions ranging from modules, end-devices, base stations and cloud management. The objective of this strategy is to assist customers in reducing product development time, cost of system validation and field testing, shortening Time-to-Market and create Time-to-Money advantages.
Learn more about Gemtek-Browan IoT
Go >